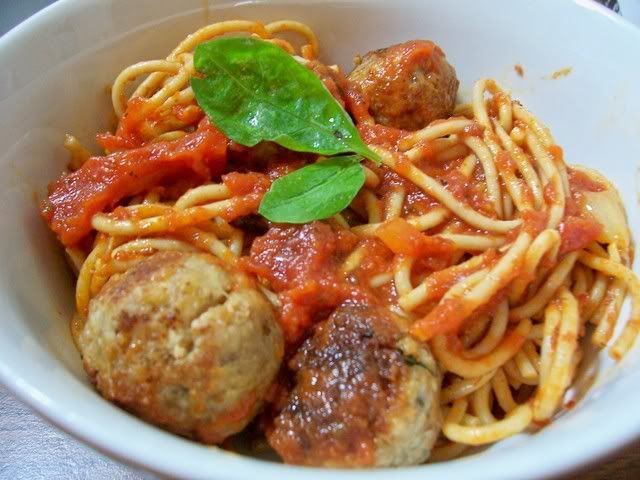 i know this recipe doesn't exactly scream, "happy 4th of july!" but it is a great one to have in your back pocket and when tomorrow rolls around, you'll be happy you have it. in the fabulous rachael ray cookbook i've been working my way through, this recipe is in addition to a florentine mac and cheese. it is equally delicious but i've found i go back to the meatball recipe for everything from spaghetti with meatballs to meatball subs. who doesn't love a great meatball?
so, here it is...simple and delicious



roasted chicken meatballs
1 1/2 pounds of ground chicken (i double this recipe to have an even 3 and freeze the extras)
2-3 fresh rosemary sprigs, stripped and finely chopped (you can use dry rosemary, about 1 T.)
2 t. fennel seeds
3 cloves garlic, grated (i use store bought minced garlic in a jar)
1 t. red pepper flakes
1 c. ricotta cheese
1/2 cups grated parmigiano-reggiano cheese (just buy grated parmesean at the store)
1 egg
1/2 to 3/4 cup of bread crumbs
salt and pepper (just eyeball this shaking on a little bit before mixing the meatballs together)
evoo (extra virgin olive oil)
preheat oven to 450 degrees.
mix together chicken, salt and pepper, rosemary, fennel seeds, garlic, red pepper flakes, ricotta cheese, parmesan cheese, the egg and the bread crumbs. form into 8 large balls. (i often make a lot more balls and make them much smaller. if you do this, just adjust the cooking time and cook them for about 10-12 minutes). grease a rimmed baking sheet with evoo. place the meatballs on the baking sheet and drizzle with evoo. bake for 17-18 minutes or until juices run clear (again, if the meatballs are smaller, reduce the cooking time.)
mix with your favorite sauce and serve. they are fabulous!